Chapada Diamantina, a mountain region in Bahia, wins the hearts of nature lovers and is considered one of the most beloved National Parks in Brazil. This diverse scenario covers the Atlantic Forest (Mata Atlântica), Cerrado and Caatinga, in an area that extends over 70 thousand square kilometers and covers 24 municipalities. In this article you will discover the best Waterfalls in Chapada Diamantina.
Chapada Diamantina National Park offers a wide variety of tourist activities, such as climbing, cycling, trekking, rappelling, horseback riding, cave exploration, kayaking, stand up paddleboarding, visits to archaeological sites, museums and, of course, the chance to marvel with numerous waterfalls. Many claim that, to fully explore all the beauty of the region, you need at least 15 days. Whatever your choice, Chapada Diamantina will certainly provide unforgettable experiences amidst exuberant nature.
The 10 best waterfalls in Chapada Diamantina in their respective municipalities.
1. Fumaça Waterfall (City Palmeiras)
The best waterfalls in Chapada Diamantina: Cachoeira da Fumaça – Photo: Branco Pires.
Cachoeira da Fumaça, the second highest in the country, second only to Cachoeira da Neblina in Rio de Janeiro, impresses with its 1181ft (360 meter) high waterfall. This peculiar name, "Fumaça Waterfall", derives from the force of the wind that acts on the water, preventing it from reaching the ground and creating a kind of rising mist, resembling smoke due to the droplets pushed upwards.
2. Cachoeirão Waterfall (Vale do Pati)
Cachoeirão. Foto: Dmitri de Igatu.
With its impressive 885ft (270 meters) of waterfall, Cachoeirão is the second largest waterfall in Chapada Diamantina, and its beauty intensifies especially during the rainy season, when several water outlets form, creating a breathtaking spectacle. . To explore Cachoeirão, it is essential to be in good physical shape, as access to it requires walking a challenging trail of almost 20 km. But the effort is rewarded by the magnificent view and the unique experience that this waterfall provides to visitors.
3. Mosquito Warterfall (Lençóis)
Mosquito Waterfall. Photo: Tulio Saraiva.
With a spectacular waterfall that reaches a height of 196 (60 meters), Cachoeira do Mosquito is a true hidden treasure in Chapada Diamantina. Located within Fazenda Santo Antônio, access to this natural wonder involves a 6 km walk from the farm. To enjoy the beauty of Cachoeira do Mosquito, you must pay a fee of R$15, which goes towards conserving this paradise. The origin of the name "Mosquito Waterfall" dates back to the mining era in the region, when the small diamonds found by miners were affectionately called "mosquitoes".
4. Waterfall Cachoeira (Itaetê)
Encantada Waterfall, Itaetê.
To reach the stunning Cachoeira Encantada, visitors need to follow a path that enters a majestic canyon. Along the way, you will come across inviting natural pools, ideal for a refreshing swim. The Cachoeira Encantada waterfall, with an imposing 754ft (230 meters), is a true wonder of Chapada Diamantina that leaves anyone enchanted with its unique beauty.
5. Crystal Waterfall (Andaraí)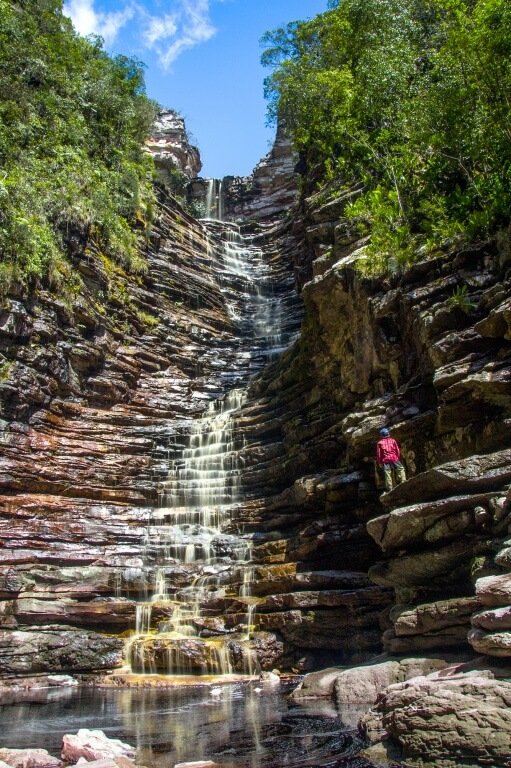 Crystal Waterfall. Photo: Caiã Pires.
Cachoeira dos Cristais gets its name due to the fascinating color that the quartz present in the ground provides when sunlight falls on it, creating a spectacle of brilliance and beauty. When the water level is lower, this waterfall reveals itself as the fourth largest in the entire Chapada Diamantina, with an imposing 360ft (110 meters high). The trail to Cachoeira dos Cristais, approximately 4 miles (7 km) long and with a moderate level of difficulty, also offers adventurers the delight of Cachoeira das Três Barras, which is equally stunning.
6. Buracão Waterfall (Ibicoara)
Buracão Waterfall. Photo: Karsten Rau.
Cachoeira do Buracão, with its impressive 278ft waterfall (85 meter), is an unmissable attraction in Chapada Diamantina. The trail that leads to this natural wonder is only 1 miles (3 km) long from the starting point, making it accessible even for those who are not used to long walks.
7. Fumacinha Waterfall (Ibicoara)

Fumacinha Waterfall: Photo: Alex Uchoa.
Cachoeira da Fumacinha, with its imposing 328ft (100 meter) waterfall, gets its name due to the similarity it shares with the famous Cachoeira da Fumaça. To reach it, you need to walk a trail of approximately 6 miles (10 km). However, the effort spent on this hike is amply rewarded, as along the way, adventurers have the opportunity to contemplate other beautiful waterfalls and canyons. This journey to Chapada Diamantina not only provides a stunning view of Cachoeira da Fumacinha, but also the experience of a natural setting rich in beauty and diversity.
8 . Herculano Waterfall (Andaraí)
Herculano Waterfall. Photo: Renato Grimm.
The Herculano Waterfall, located in Andaraí, is a true treasure of Chapada Diamantina. After a trail of approximately 2 hours, adventurers come across this spectacular waterfall, which has three waterfalls, each around 328ft (100 meters high). A unique feature of this trail is the possibility of camping along the route, as long as you are accompanied by local guides.
9. Waterfall Poço do Diabo (Mucugezinho River)
Waterfall Poço do Diabo. Photo: Branco Pires.
Poço do Diabo Waterfall, located on the Mucugezinho River, is a true paradise accessible from the municipality of Lençóis. Although the drive there covers around 12 miles (20 km), the walk to the waterfall is surprisingly short, taking just around 20 minutes along the bed of the Mucugezinho River, which stands out for its dark color. The ease of access to this beautiful waterfall makes it a popular choice among visitors who want to enjoy an invigorating swim and relax in the crystal clear waters of Poço do Diabo, surrounded by the lush nature of Chapada Diamantina.
10. Ferro Doido Waterfall ( Morro do Chapéu)
Ferro Doido Waterfall. Photo: Renato Sampaio.
Cachoeira do Ferro Doido, located in Morro do Chapéu, is a true jewel of Chapada Diamantina. At an impressive 328 ft (100 meters high) and with four majestic waterfalls, this waterfall offers a spectacular view, including a vast canyon that leaves any viewer in awe. Surprisingly, access to this natural wonder is quite easy, making it a popular destination for abseilers and skydivers looking for extreme thrills. For trekking lovers, the trail to the waterfall takes approximately 3 to 4 hours, providing an incredible opportunity to explore the lush landscape of Chapada Diamantina.
And now that you've discovered the best waterfalls in the region, be sure to also check out the 15 Unmissable Tours in Chapada Diamantina to make the most of your visit to this natural paradise.