Welcome to one of the most stunning ecotourism destinations in Brazil: Chapada Diamantina, located in the state of Bahia.
Chapada Diamantina National Park is a true paradise for nature lovers, offering a wide variety of attractions and activities that make it an unmissable destination. From majestic waterfalls to crystal-clear pools, mysterious caves and trails that cut through stunning landscapes, this place has everything you need for an unforgettable experience.
But Chapada Diamantina is not just a natural paradise. It is also adorned by charming historic cities, good cuisine and incredibly welcoming Bahian people.
With more than 70 thousand square kilometers of untouched beauty, Chapada Diamantina is a region that deserves time to be properly explored. A weekend won't be enough to absorb everything this incredible place has to offer.
Ecotourism in Bahia:Things to do in Chapada Diamantina
1 – Sunset at the top of Morro do Pai Inácio (Lençóis)
Sunset at the top of Morro do Pai Inácio. Photo: Ronaldo Tozzi.
Firstly, after a day of exploration in Chapada Diamantina, a recommended suggestion is to recharge your batteries and enjoy the sunset at the top of Morro do Pai Inácio, which is considered the region's main postcard. This is, unquestionably, one of the most advisable activities to do in Chapada.
It is possible to climb to the top of the hill throughout the day; however, it is at dusk that the place transforms into a spectacle of phenomenal colors. Entry is permitted until 5pm.
2 – Buracão Waterfall (Ibicoara)
Buracão Ibicoara Waterfall. Photo by Karsten Rau.
The Buracão Waterfall is considered one of the most beautiful in the entire Chapada Diamantina. The trail to get there is considered light to moderate and is around 3 kilometers long, therefore suitable for most people.
On the way, you can admire beautiful landscapes and bathe in smaller waterfalls such as Cachoeira do Buracãozinho and Cachoeira das Orquídeas. Access to the trail is only permitted with a guide, so we recommend that you hire one.
3 – Fumaça Waterfall (Palmeiras)
Unmissable tours in Chapada Diamantina. Cachoeira da Fumaça Palmeiras. Photo: Branco Pires.
A visit to Cachoeira da Fumaça is an unmissable activity in the Chapada Diamantina region. This waterfall is characterized by being a thin curtain of water that falls from a wall and dissipates before reaching the ground.
To reach this point, it is necessary to hike approximately two hours, which includes challenging sections with rugged terrain, little vegetation and a steep slope. The journey is physically demanding, however, the reward will be worth every effort.
If you do not have experience hiking, it is recommended that you hire a guide to assist you.
4 – Blue Well (Andaraí) – Poço Azul

Blue Well. Photo: Branco Pires.
Have you ever imagined the possibility of floating in a pool of crystal clear waters that emerge from a cave? This incredible experience can be experienced at Poço Azul, located in the city of Andaraí.
The ideal period to enjoy this attraction is from February to October, between 1:30 pm and 2:30 pm, when the sun's rays give the water dazzling shades of blue. Therefore, if you want to capture memorable images, it is recommended to plan your visit at this time.
5 – 5 – Enchanted Well (Itaetê) – Poço Encantado
Itaetê Enchanted Well. Photo: Gus Takatori.
Similar to Poço Azul, Poço Encantado is situated inside a cave and displays stunning shades of blue that are visually stunning. However, it is important to note that access to water is not permitted at this location.
6 – Pati Valley (Mucugê, Andaraí and Palmeiras)
Vale do Pati (Mucugê, Andaraí and Palmeiras). Photo: iurikothe ​​Flickr.
One of the unmissable tours in Chapada Diamantina that must be on your list is Vali do Pati, first of all, you need to know that it is considered one of the most beautiful treks in the world. The region is home to a mixture of rock vegetation and remaining Atlantic Forest and, throughout the attraction, it is possible to come across rivers, canyons, waterfalls and hills.
In total, there are five days of walking (around 15 to 25 km per day – around 9 miles to 15 miles per day ) with overnight stays within the Valley itself. Every new day brings a thrilling attraction that makes all the effort worth it. However, it is worth noting that this trek must only be done with a guide.
7 – Torrinha Cave (Iraquara)
Torrinha Iraquara Cave. Photo: Daniel from Blog do Bambui.
Gruta da Torrinha is the most complete cave in rare formations in the country, the cave was discovered in 1850 and is located in a region where there are more than 250 caves and caves. Some of the highlights of the attraction are the calcite bubbles, gypsum needles and aragonite flowers, all explained by local guides.
It is worth mentioning that the destination is truly unique because it is a formation that does not exist anywhere else in the world. In other words, Gruta da Torrinha is truly unique, so we couldn't help but list it among the 15 Unmissable Tours in Chapada Diamantina.
8 – Lapa Doce Cave (Iraquara)
Lapa Doce Cave in Iraquara. Photo: @grutalapadoce.
The Lapa Doce Cave is the third largest cave in Brazil, measuring more than 17 kilometers in length (10 miles), 850 meters (2788ft) of which are open to visitors. This attraction offers beautiful landscapes and is only explored under the guidance of a guide.
9 – Muritiba Park (Lençóis)
Muritiba Lençóis Park. Photo: Disclosure.
Founded in 1986, the Muritiba Municipal Park – also known as Serrano – is perfect for those looking for attractions aimed at nature tourism. In total, there are 5 kilometers (3 miles) of trails with various attractions such as waterfalls, wells and even colored sand dunes.
10 – Capão Valley

Capão Valley. Photo: Disclosure.
Getting to know Vale do Capão is quite an experience. Located at the foot of the Chapada Diamantina National Park, the valley is considered an ecological sanctuary (and rightly so). The climate that permeates the region is one of esotericism and peace, a legacy of the young hippies who moved to the place in the mid-70s.
Currently, many people still leave urban centers and move to Vale do Capão in search of self-knowledge, spirituality and a more sustainable life, in this sense this place is ideal if you are looking for a place to relax and be surrounded by nature.
There it is possible to take tours linked to ecotourism and also taste local delicacies, most of which are vegetarian dishes. Furthermore, from the Valley there is access to some of the most famous attractions in the region, such as Cachoeira da Fumaça and Morrão.
11 – Morro do Camelo (Palmeiras)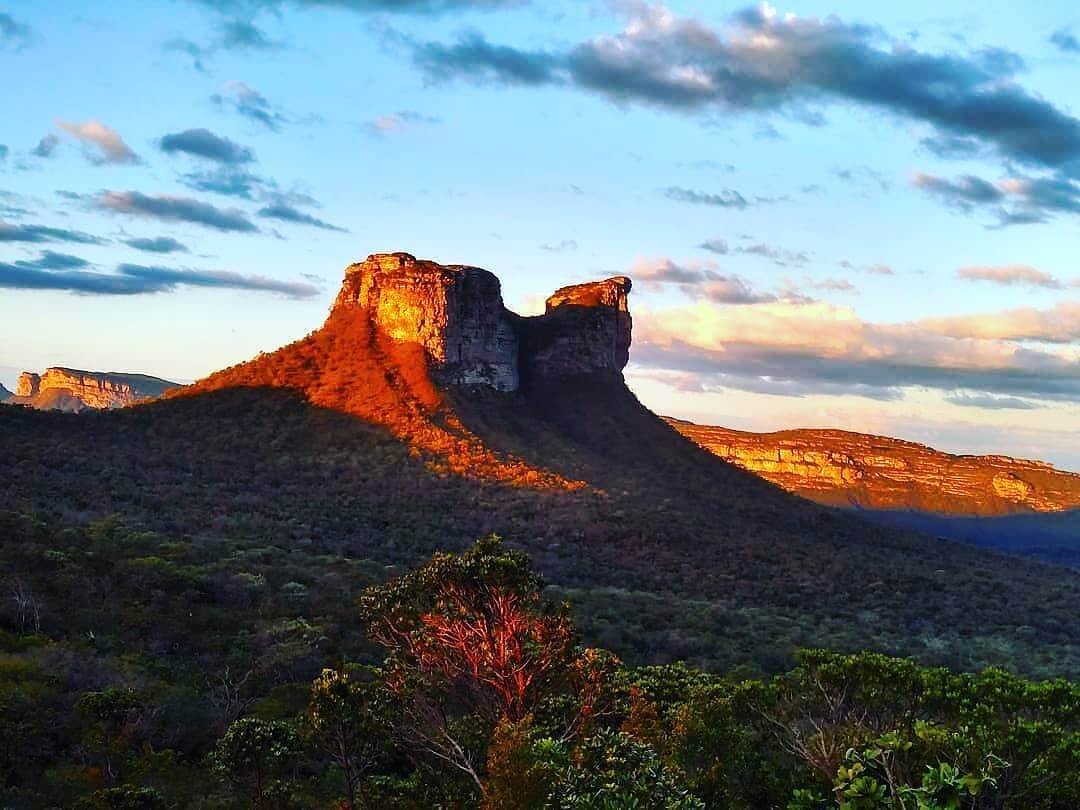 Morro do Camelo Palmeiras. Photo: @diogoguia_
With one of the most beautiful views of Chapada Diamantina, however, still little explored by most tourists, Morro do Camelo is a beautiful attraction that deserves to be explored.
Access is easy, does not require trails and can be done by car. Choose to visit the attraction in the late afternoon to watch the sunset, when the orange light hits the rocks and makes the scene even more stunning.
12 – Ferro Doido Waterfall (Morro do Chapéu)
Ferro Doido Waterfall. Photo: Ranato Sampaio.
The Ferro Doido Waterfall offers a truly impressive landscape. With a height of more than 90 meters, the grandeur of this waterfall is enough to leave anyone in awe. Access requires an approximately two-hour hike via trail, making it unsuitable for sedentary visitors.
13 – Devil's Well (Lençóis) – Poço do Diabo
Devil's Well in Lençóis in Chapada Diamantina. Photo: Lilian Leyve.
The Poço do Diabo Waterfall is a mandatory stop for a beautiful swim. It is also possible to do rappelling and zip lining during the tour. The trail to the attraction takes just 15 minutes.
14 – Pratinha River (Iraquara)
Pratinha River in Chapada Diamantina. Photo: @tailanyangeloo.
The Pratinha River, located on a private property of the same name, is one of the most paradisiacal places in the entire Chapada Diamantina. This destination attracts a large number of tourists due to the incredible view of the water: an almost indescribable blue, so this destination is ideal for those who enjoy spending the day cooling off.
There you can take advantage of various activities aimed at ecotourism, such as exploring the interior of the cave, rappelling and ziplining, as well as swimming in the calm, crystal-clear waters.
15 – Discover archaeological sites
Archaeological sites in Chapada Diamantina. Photo: Disclosure.
Finally, the region surprises us with archaeological sites of great historical importance, thanks to their cave paintings. The main archaeological sites that you can visit and plan your visit are:
• Serra das Paridas Archaeological Complex
• Matão archaeological site
• Raposa Community
• Morro do Chapéu
Conclusion
Chapada Diamantina, with its rich natural and cultural diversity, is a jewel of Brazilian ecotourism. From the impressive waterfalls, such as Fumaça and Ferro Doido, through mystical caves such as Lapa Doce, to archaeological sites with their priceless cave paintings, the region offers a series of unforgettable experiences. A visit to Chapada is, without a doubt, a journey through stunning scenery and a deep dive into the history and natural beauty of Brazil.
In Chapada Diamantina, there are several natural attractions that guarantee fun for everyone. To help with your itinerary there, access the Chapada Diamantina Guide.