Discover 10 unmissable tours in Belém do Pará to enjoy nature in the Amazon. The Creative City of Gastronomy by UNESCO is also rich in historical, cultural and ecotourism heritage.
A city nestled in the middle of the Amazon Forest, this is Belém do Pará. Modern without forgetting its past, customs and culture. You don't need to travel for hours or go far to experience nature tourism in the Amazon. Strolling through the city, through the ecological parks and its 18 islands, you will realize that it is very easy to be in contact with nature.
Due to its geographical position, Belém do Pará is considered the gateway to the Amazon. Located on the banks of the Guamá River, at the mouth of the Amazon River, it can be accessed by air, land and sea. The city is quite humid and it rains almost every day during the year. But nothing that gets in the way, as most are passengers and by appointment.
10 Unmissable Tours in Belém do Pará to enjoy the nature of the Amazon
1 – Mangal da Garças (heron mangrove)
Mangal da Garças. Foto: Marcos Rodrigues.
This park is considered one of the top 5 in Brazil and is one of the main tourist attractions in Belém do Pará. The Mangal das Garças, despite having that name, there are several other birds that freely pass through the park, among other types of animals. In fact, strolling through the park is having the opportunity to discover the beauties of the fauna and flora of the Amazon.
The site is a naturalistic park created in a flooded area of 40,000 meters on the banks of the Guamá River that was revitalized and retransformed for the creation of the Mangrove. Admission is free, except for the monitored spaces, such as the José Márcio Ayres Butterfly House, Belém Lighthouse, Aningas Nursery, and the Amazon Memorial.
Free entrance
Visiting hours: Tuesday to Sunday, from 9 am to 6 pm.
Address: R. Carneiro da Rocha, s/n – Cidade Velha
Restaurant Manjar das Garças: Tuesday to Thursday from 12h to 15h and from 20h to 00h
2 – Jardim Botânico Da Amazônia – Bosque Rodrigues Alves (Amazon Botanical Garden – Bosque Rodrigues Alves)
Jardim Botânico Da Amazônia – Bosque Rodrigues Alves.
Another spot to enjoy nature in Belém do Pará, especially the fauna of the Amazon, is at the Botanical Garden of the Amazon. Also known as Bosques Rodrigues Alves or Zoobotanical Garden of the Amazon. A calm and peaceful place to contemplate nature without hurry.
The Amazonian native forest space, inaugurated in 1883, has more than 80 thousand species of flora and fauna. Strolling along the trails and contemplating nature, you certainly won't realize you're in a big urban city.
Admission: BRL 2
Visiting hours: Tuesday to Sunday, from 8 am to 5 pm.
Address: Av. Almirante Barroso, 2453 – Marco.
3 – Ilha de Mosqueiro (Mosqueiro Island)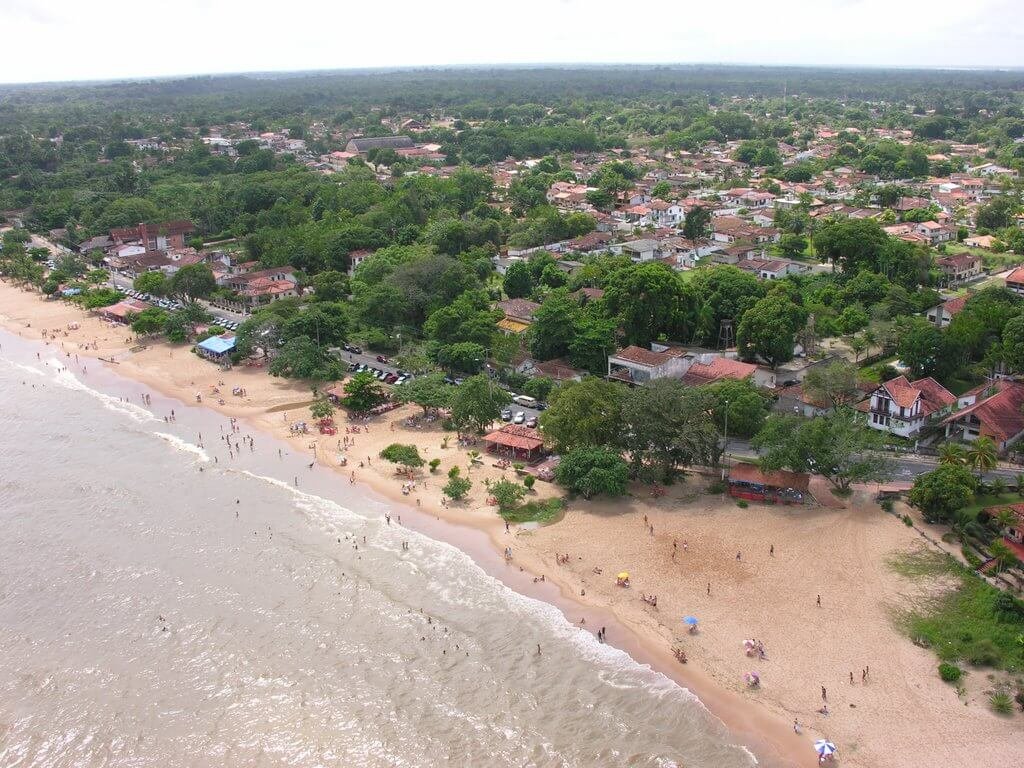 Mosqueiro Island in Belém do Pará. Foto: Eloi Raiol.
River beach with wave? That's right! On Mosqueiro Island, a remote district 70 km from the center of Belém, you can enjoy more than 20 beaches between strips of white sand by the riverside and streams.
The island of Mosqueiro has several 19th century chalets with European features, normally its beaches tend to be quiet, except on holidays and vacations.
Be sure to go to the famous Tapiocaria, one of the main attractions on the island and try tapioca wet, traditional tapioca from Pará drizzled with coconut milk.
4 – Ilha de Cotijuba (Cotijuba Island)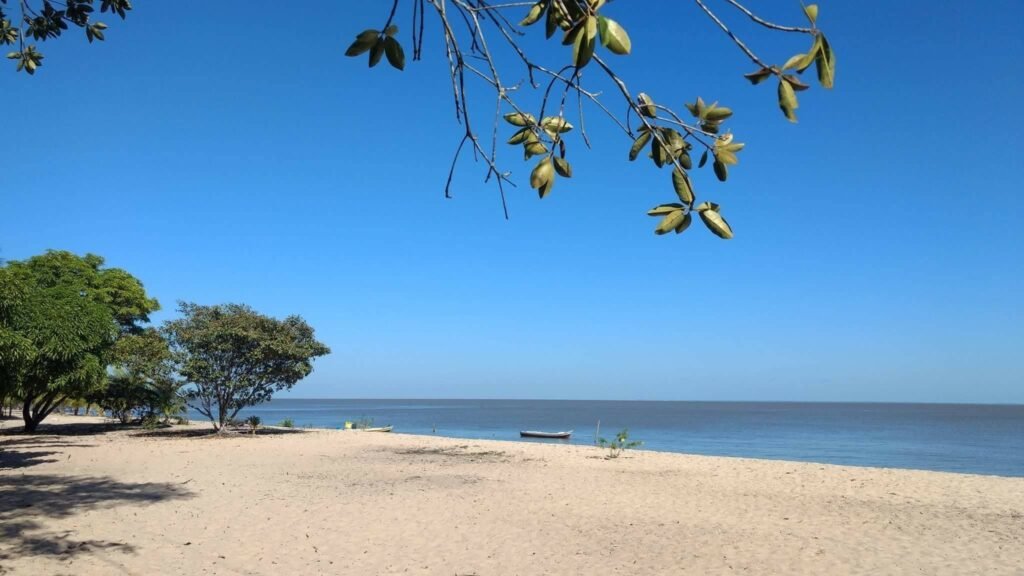 Another island in Belém that you cannot miss is Ilha de Cotijuba, a very rustic island with 11 paradisiacal beaches. The island is an environmental protection area where cars and motorcycles are not allowed to enter, only authorized vehicles such as motorcycle taxis, motorrete (tuk tuk style – common vehicle in Asia) and cable car (a small tractor pulling one or two passenger cars).
5 – Ilha do Combú (Combu Island)
Ilha do Combú. Foto: Divulgação.
Another very interesting island in Belém to visit is Ilha do Combu. Accessible only by boat, it is very popular on weekends due to the many restaurants scattered around it. As well as enjoying the nature of the Amazon and refreshing yourself by bathing in the Guamá River.
If you want to spend a calm day, taste the beautiful gastronomy of the Amazon and even contemplate a panoramic view of Belém. Undoubtedly, Ilha do Combu will provide you with mega leisure. By the way, this program is very popular with residents of the capital of Pará, but little visited by tourists. So, be sure to put it on your Tourism itinerary in Belém do Pará. It's so worth it.
6 – Parque do Utinga (Utinga Park)
Utinga Park. Foto: Divulgação.
The ecological space is one of the most visited places by residents of Belém do Pará for those who love being in contact with nature. The Utinga Park or Utinga State Park was created with the aim of protecting natural ecosystems of great ecological relevance and scenic beauty. As well as encouraging scientific research, it encourages the development of environmental education activities, including ecological tourism. In this sense, we can observe the fauna of the Amazon region that they find there, especially the macaw.
The site has an area equivalent to 1400 soccer fields and is located between the municipalities of Belém and Ananindeua. The space, in addition to preserving a piece of the Amazon's rich biodiversity, also brings together several leisure activities, such as: trails, cycling, boat trips, buoy cross, stand up paddle, kayaking and even a place to rappel.
Free entrance
Visiting hours: Every day, except Tuesdays, from 6:00 am to 5:00 pm.
Address: Avenida João Paulo II, S/nº, Curió-Utinga.
7 – Kayak or stand up paddle trips around Guajará Bay
Kayak or stand up paddle trips around Guajará Bay. Foto: Marenteza Canoagem.
If you like adventure tourism and at the same time enjoy nature. Certainly a Kayak or stand up paddle tour through the Guajará Bay in Belém will suit you.
A walk through Guajará bay is a great option to enjoy nature, if you're lucky, you might not see a dolphin along the way. These tours are usually held on weekends and holidays, but it is also possible to find tours during the early morning.
8 – Emílio Goeldi Museum Zoobotanical Park
Zoobotanical Park of the Museum Paraense Emílio Goeldi. Photo: Disclosure.
The Museu Paraense Emílio Goeldi is a research institution linked to the Ministry of Science, Technology and Innovation of Brazil. It is the oldest zoobotanical park in the country, founded in 1895. Its activities focus on the scientific study of the natural and sociocultural systems of the Amazon.
The museum is an international reference in geographical, geological, climatological, agricultural, faunal, floristic, archaeological, ethnological and museological research.
In addition to working to spread knowledge about the Amazon, leisure areas are also highly appreciated. In the Park, 1,790 animals of 80 Amazonian species live, totaling more than 3 thousand animals, in captivity and in freedom, with a high reproduction rate. As well as specimens of more than 500 plant species.
Nowadays, the living collection of the Goeldi Museum is made up of animals that are victims of deforestation and illegal trafficking, brought by environmental agencies.
Admission: BRL 3.00
Visiting hours: Every day, except Mondays, from 9:00 am to 4:15 pm.
Address: Av. Gov Magalhães Barata, 376 – São Brás.
9 – Ilha dos Papagaios (Parrot Island)
Parrot Island. Photo: Disclosure.
Do you want to see the sunrise in the Amazon and even see the awakening of a flock of more than 4 thousand parrots on an island? Then look for a river trip to Ilha dos Papagaios.
There are tourism companies that offer river trips along the waterfront and islands of Belém, including Ilha dos Papagaios. This tour requires an extra dose of disposition, as it is about seeing the sunrise and seeing the parrots take off during this period.
The tour starts at dawn and the price can vary from R$ 130 to R$ 200, depending on the travel agency and the route taken.
10 – Estaçao das Docas (Sunset at Docks station)
Docks station. Photo: Disclosure.
Finally, our list of tourist attractions in Belém do Pará ends at Estação das Docas. One of the most visited places by locals and tourists. The space includes several bars and restaurants that are right in front of Baía do Guajará. It also has a museum, theater, handicraft stores and cultural spaces.
The excellent infrastructure of the place made it a national reference in tourism and leisure. Certainly one of the best places to enjoy the gastronomy of Pará, watch the sunset and contemplate the beauty of the Amazon through the Guajará Bay.
Belém do Pará has the best gastronomy evaluated by foreign tourists according to the Ministry of Tourism. It is also part of the select group of Creative Cities of Gastronomy by UNESCO. Therefore, it is also a great city for gastronomic tourism.
Conclusion: If you dream of getting to know the Amazon, strongly consider Belém do Pará as your gateway
To carry out nature tourism in the Amazon, you do not need to travel kilometers into the forest to experience and have a unique experience of this wonderful forest. Cities like Belém do Pará and Manaus in Amazonas have excellent attractions for ecotourism.