Welcome to the wonderful city, a destination globally recognized for its unique beauty. In this guide, we will explore the 10 best beaches in Rio de Janeiro. From the perfect waves for surf lovers to peaceful havens kissed by the calm sea, each beach captivates a different audience. Discover your personal paradise on the stunning sands of the capital of Rio de Janeiro.
Discover the 10 best beaches in Rio de Janeiro
1. Copacabana beach (Praia de Copacabana)
Copacabana beach.
The iconic Copacabana Beach, a jewel of Rio de Janeiro, attracts visitors from all over the world with its unmistakable beauty. Explore its 4km length (2.48 miles), leisurely enjoying the charming promenade, while enjoying the various kiosks, restaurants and bars along the seafront. An essential experience for both tourists and locals, who celebrate together the unique atmosphere of this legendary beach.
2. Arpoador Beach (Praia do Arpoador)
Arpoador Beach, in the background Morro dos Irmãos.
Arpoador, a treasure sought after by tourists, attracts crowds, especially during sunset, an unmissable spectacle. Witness the unique beauty of this moment, shared by enthusiasts who surrender to the magical atmosphere of this beach. Plus, experience the serenity of surfing in calmer waves, providing a tranquil and unforgettable seaside experience.
3. Leblon Beach (Praia do Leblon)
Leblon Beach.
Leblon Beach: a haven of tranquility in the vibrant atmosphere of Rio de Janeiro. This region, considered one of the most sophisticated, offers a serene beach, a calmer option compared to the busy neighborhoods of Ipanema and Copacabana.
At night, the energy of Leblon Beach continues to pulsate, attracting people of all ages who explore the shore on relaxing walks or have fun in its lively nighttime activities. Discover the perfect balance between daytime calm and nighttime vivacity in this Rio gem.
4. Ipanema beach (Praia de Ipanema)
Ipanema beach.
Ipanema Beach: an oasis of calm in the serene and coveted waters of Rio de Janeiro. Surrounded by stunning beauty, it stands out among the 10 best beaches in the city and is among the most stunning in Brazil.
For lovers of lively beaches, Ipanema is a paradise. Its waterfront is dotted with a variety of bars, kiosks and restaurants, providing a unique gastronomic and social experience.
5. Praia do Pepino
Pepino Beach.
Praia do Pepino, the serene refuge of São Conrado that escapes the hustle and bustle of the busier beaches. If you are looking for tranquility, away from blandness, this is the ideal place to rest.
Known as a landing point for hang gliders, Praia do Pepino offers a unique opportunity to enjoy the stunning landscapes of Rio de Janeiro from a completely different perspective. This is the place where adrenaline meets serenity, providing an unparalleled experience.
Whether you are a hang gliding enthusiast or someone who has never tried it, Praia do Pepino is the perfect setting to contemplate Rio's natural beauty from a new perspective. Explore this lesser-known gem and discover the tranquil charm it has to offer.
6. Perigoso Beach (Praia do Perigoso)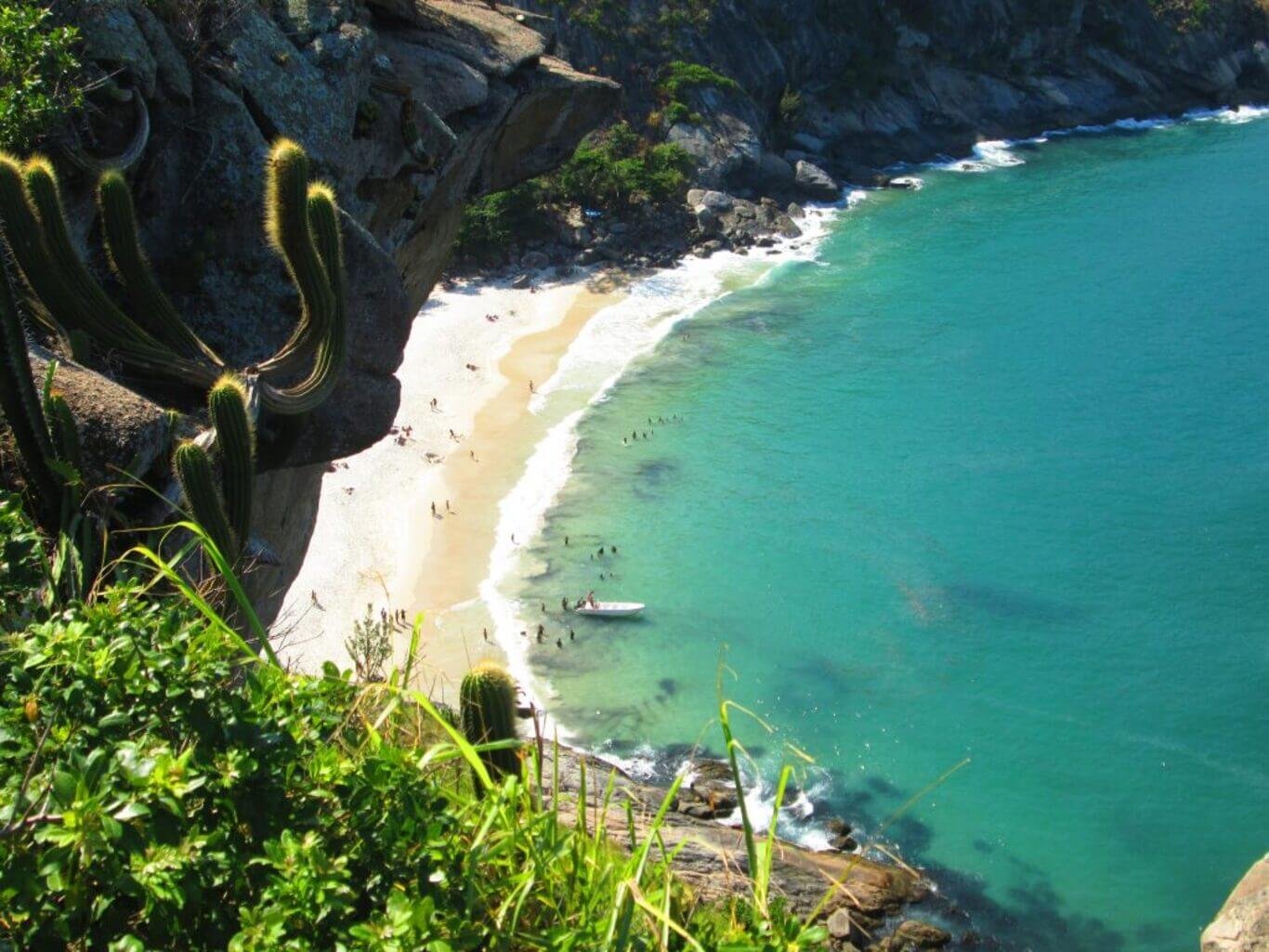 Perigoso Beach. Foto: www.meurj.com.
Praia do Perigoso, a wild jewel surrounded by untouched nature. Part of a group of beaches called "wild", it stands out as the best known and, consequently, busy on weekends.
This beach captivates with its unique beauty, clear sand and the sea in mesmerizing shades of blue. The tranquility of the environment offers the perfect refuge for those looking for relaxation amidst exuberant nature.
To explore this paradise, the adventure begins with the choice between a boat or a not very long trail. Discover the magic of Praia do Perigoso and indulge in a unique experience, where wild nature meets coastal serenity.
7. Barra da Tijuca Beach (Praia da Barra da Tijuca)
Barra da Tijuca Beach. Photo: Rafael Rabello de Barros.
Barra do Tijuca Beach, where grandeur meets diversity. With its impressive 18 km in length (11 miles), it is the largest coastal jewel in the Marvelous City. From busy stretches to more serene corners, the beach is a playground for sports enthusiasts, both on the sand and in the sea.
Explore a variety of restaurants and kiosks that dot the waterfront, providing not only culinary delights but also a bustling nightlife scene. Whether you want to practice sports, relax or enjoy the nightlife, Praia da Barra do Tijuca is an irresistible invitation to a complete and captivating coastal experience.
8. Leme Beach (Praia do Leme)
Praia do Leme no Rio de Janeiro. Foto: Yvon Maurice (Flickr).
Praia do Leme, the well-kept secret next to the famous Copacabana, where locals find their refuge. Away from the tourist crowds, this peaceful beach is perfect for those looking for rest and relaxation.
In the shadow of the hustle and bustle, Praia do Leme offers a serene atmosphere, with restaurants and kiosks nearby, providing a welcoming seaside experience. Its sea, sometimes rough, with imposing waves, creates an immersive setting for nature lovers. Discover this Rio oasis, where tranquility meets the grandeur of the ocean.
9. Recreio Beach (Praia do Recreio)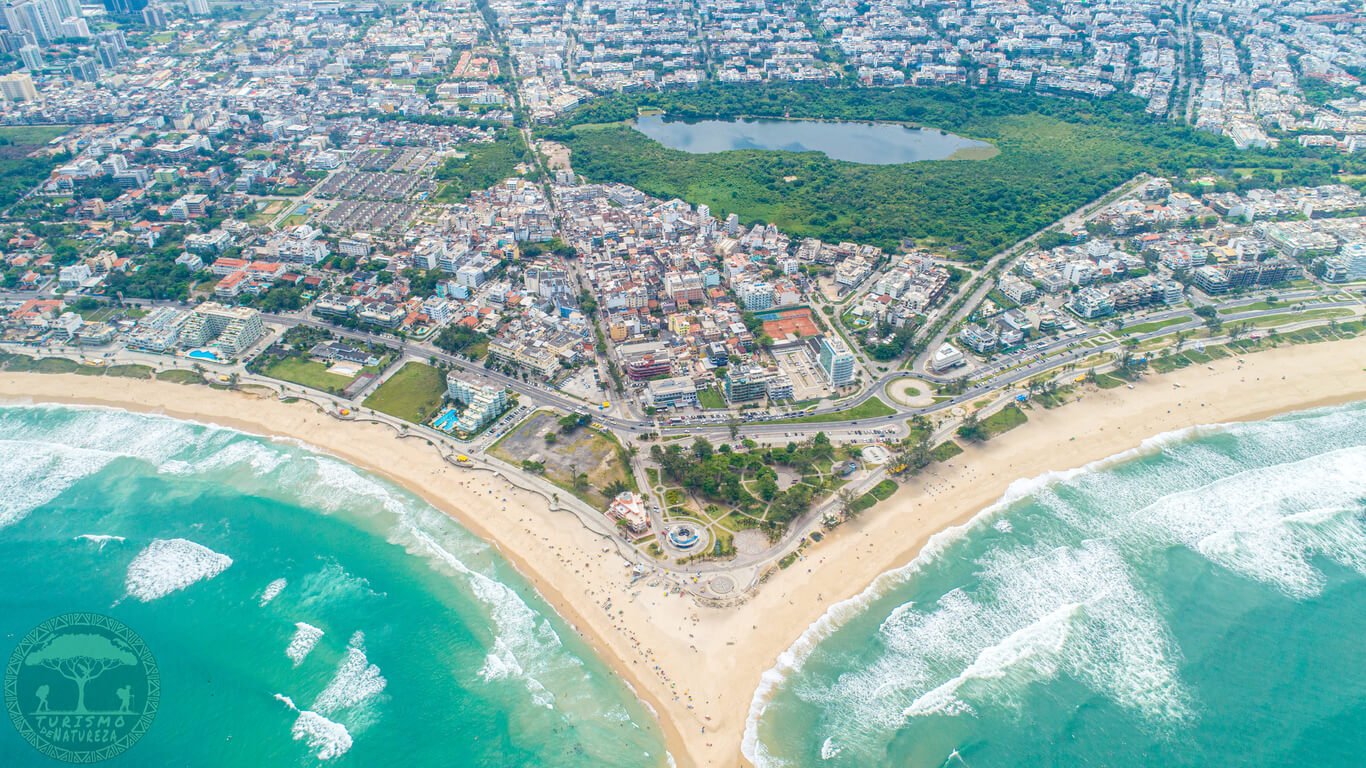 Recreio Beach in Rio de Janeiro. Photo: Disclosure.
Praia do Recreio, a paradise for surf and nature lovers. In addition to being a meeting point for surfers, the beach captivates those who seek to appreciate its natural beauty and commitment to environmental preservation.
In this peaceful haven, it's the locals who enjoy it most, creating an authentic atmosphere. Explore the seaside kiosks and restaurants for a unique dining experience. Whether you want to catch waves or simply relax, Praia do Recreio offers an authentic getaway, where the passion for surfing meets the preserved beauty of the natural environment.
10. Red Beach (Praia Vermelha)
Praia Vermelha.
Praia Vermelha, a charming setting between two majestic hills, one of which is the iconic Sugarloaf Mountain. Although it is quite visited, this beach reveals a more serene charm compared to the famous Copacabana, Ipanema and Leblon.
The reddish sand and the serene sea in stunning shades of blue give the beach a unique atmosphere, making it an ideal refuge to appreciate nature in all its grandeur. Immerse yourself in the tranquility of Praia Vermelha, where natural beauty is revealed in every detail.
Conclusion
The 10 best beaches in Rio de Janeiro offer a diverse and enchanting spectacle for all tastes. Each piece of sand tells a different story, whether in the hustle and bustle of the most famous or in the serenity of the less explored. The sea, with its enchanting tones, becomes the stage for a variety of activities, from surfing to peaceful contemplation of nature. The seaside kiosks and restaurants are not just dining spots, but also social spaces that complement the coastal experience. On each beach, Rio de Janeiro presents visitors and residents with an irresistible invitation to explore, relax and be enchanted by the grandeur of the Marvelous City.